| | |
| --- | --- |
| Michael Jones = Team Roping | |

Archives

A New Breed of Roper
- By Phil Livingston

Michael Jones - "The Proof"
- By David Jones

MICHAEL JONES. . . . . THE NEW BREED OF ROPER
-By Phil Livingston
Phil Livingston, is truly a roping historian, he has authored over 450 articles on horses, saddles and equipment, horse and western equipment and the sport of roping and ropers. Phil is a ranch cowboy/rancher, rodeo cowboy/roper since high school (worked 5 events in college) and still team ropes. He was horse editor for WESTERN LIVESTOCK JOURNAL and advertising manager for TEX-TAN WESTERN LEATHER CO. where he also designed and tested saddles and riding equipment. Phil was the managing editor of the PAINT HORSE JOURNAL and a freelance and publication advertising consultant for many of the most prestigious western companies and magazines. He is the author of six published books and proudly states, "one thing has remained constant---my love of roping, ropers and rope horses---and I haven't paid one hell of a lot of attention to any other sport since I hung up my bull rope in 1960."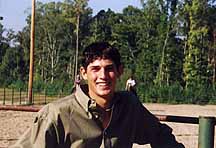 He's good looking, articulate, a "people person" and confidant about his future. Michael Jones of Round Rock, Texas is an excellent example of today's young rodeo ropers and the first to be developed by the ROPRO Training Systems which utilizes the Bio-mechanical training that is traditional in other sports. The young man handles a nylon lariat as an extension of his arm (he can rope either right or left handed with equal ease) and is the person to beat anytime he enters a roping. At 19, and a new member of the Professional Rodeo Cowboys Association, Michael is poised on the threshold of a successful career as a professional roper. Hopefully, that training and natural ability will take him to a World Championship in the future.
Unlike many ropers, Michael Jones isn't ranch raised. He is an example of the fantastic growth in team roping as an equine sport coupled with dedication and correct practice. Michael learned to rope on both his father's patented roping simulator, the "Slick-Stick" and with live cattle in the arena. He's a well-trained athlete, competing in a sport which utilizes horses and cattle but does not consider himself a cowboy. "I picture a cowboy working cattle on a ranch. I rope and I use the same tools and techniques that a cowboy does but in the area of professional competition. Team roping is no longer just a cowboy sport and, as a part of that, I'm an athlete on horseback competing in it.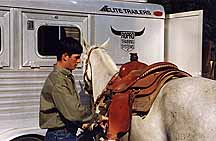 With a team roper and horse trainer for a father, Michael was exposed to the sport at an early age. But, he didn't take much interest until he was 8. According to his parents, David and Linda Jones, Michael first picked up a lariat at a jackpot team roping to be part of a group of boys fooling around... and he hasn't put one down since. He won his first trophy belt buckle a few days after his 11th birthday, roping with his father. Since then, he's won an impressive collection of buckles, saddles, trophies and lots of cash. He was able to pay for a three-horse ELITE Aluminum trailer with the prize money earned at just one contest.
The young man grins, "What it comes down to is... I truly like to rope." That means calves, steers or on the Slick-Stick. He's also fascinated with trick roping and has devoted a repertoire of spinning loops and catches for his own enjoyment. "Gene McLaughlin, a professional trick roper, showed me things in that area and I appreciate his interest.
Shortly after Michael evidenced an interest in roping, his father developed the "Slick-Stick" roping simulator and the ROPRO Training System. With the "Slick-Stick", the boy didn't need to wait for horses to be saddled, a partner to practice with or worry about the weather. He spent hours on the machine each day. Because the "Slick-Stick" simulated roping from a horse, he was able to concentrate on throwing the exact loop that he would actually use in the arena. He learned to look at steers as steers, rather than roping a dummy on foot as most ropers begin. As his ability and knowledge of roping grew, he began to take part in the Ropro Training System clinics conducted by his father. Before long Michael was helping adults improve their skills and became a highly regarded teacher. Not only could he rope himself but also he was able to communicate with other ropers and assist them in working out their problems. During the last five years it has become a common sight at a clinic to see the young man surrounded by a group of older ropers, all listening to his discussions on the correct way to utilize their bodies to improve their skills.
It is also natural for the young man to want to compete at the professional level. The challenge of roping against, and beating, the best in his sport is a normal outgrowth of his interest and dedication. Team roping is gathering momentum, more and more individuals from a non-cowboy background are taking part in it. He wants to make his mark in the sport. Aiming at a successful Professional career for a few years in the main priority.
"I feel that Team Roping is rapidly becoming one of our major sports" comments Michael. "It has the cowboy charisma, is fast, has some danger, excitement, a challenge and a dramatic climax. Everyone wants to be a cowboy and that's a part of the popularity. Participants and spectators alike can relate to that. All it will take is promotion to make it attractive for television audiences. I want to be a part of that.
"Yes, I'd like to be a World Champion... any roper hopes for that achievement. But, I want more in life than just that," smiles the young man. "I'd like to prove to myself that I can do it. Then, when my time as a professional athlete is over, move on to an another adventure. Of course, I'd like to continue to be involved in the roping world. I enjoy teaching, communicating with people and passing on what I've learned about the sport. Being a part of our family business of roping instruction, the "Slick-Stick" and developing a roping saddle is not only a challenge but an important part of my life. Having the relationship with my parents that I do is also wonderful and I want to continue that."
Michael begins his first year on the Pro Rodeo Circuit heeling for Tod Slone one of the top professional ropers and a 7 times NFR qualifier. Like any rookie, he's anxious to see what he can do competing on the "Big Apple". He's well trained, confident of his ability and riding horses that are proven performers. His main mount is "Snoop", an 11-year-old that he raised and trained. His back-up is a 7 year-old gelding named "Mister" another horse he trained. His calf roping horse is named "Wiggie", and was trained for calf roping by Bill Drawe. Like most ropers, Michael prefers to ride his own horses rather than those belonging to other people since he has more confidence in them.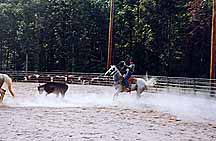 Goal-oriented, the young man doesn't want to be just another contestant. He has set his sights on winning the 1999 PRCA Rookie of the Year title in Team Roping and qualifying for the National Finals Rodeo. Once he's demonstrated that he can rope with the best the length of his professional career will be determined by how deeply he becomes involved in the family business.
During his competing career he would also like to compete at the annual Timed Event Championship Contest at Guthrie, Oklahoma. That event brings together the top timed event contestants in the nation to rope and steer wrestle for one of the most prestigious titles in the rodeo world. To accomplish that, he'll have to polish on his calf roping, single steer roping and steer wrestling.
Away from the arena, Michael Jones has a variety of other interests. He likes to play golf and hunt. He's even helped train a pack of coon dogs and enjoys following them as they bay a trail. He also braids nylon horn knots. "That's something I can do sitting in a pickup while we're going down the road," laughs the young roper. Taking the time to enjoy people and the world around him is of major importance. Even at a contest, he's quick to help a competitor or spend time with a child that's just beginning to handle a lariat. "Roping compliments my life...not composes it."
Michael Jones is the first roper completely trained by the Ropro Training System' the result of athletic training keeping up with the technology of today. He's also a young man that is reaching out for his future with a broad smile on his face and an interest in the world around him.

Top of Page

Michael Jones - "The Proof"
-By David Jones
Michael Jones is my son, my partner, my friend and my teacher.
By the age of eight, Michael still had no interest in roping, so Linda and I waited and waited and waited. One day at a roping some of the kids were roping and tying calves in a holding pen near the arena and Michael joined in the fun. I don't think he has put a rope down since. That was before Slick-Stick and I tried to encourage him to rope the dummy. His response was always, "Why, dad? It's not the same." We spent a lot of time in the arena with slow steers and a breakaway hondo.
I developed the Slick-Stick and Sled and noticed directly that Michael's progress was much different than I had ever seen or had taught. I decided to let him learn from correct heights and angles without the influence of my dummy training. I helped him keep away from blatant errors. Soon I realized he was able to copy the roping styles (not dummy roping styles) of his team roping heroes. He would put on a show roping like Tee, Monty Joe, Bret Tonozzi, Mark Simon, Jake and Clay. At the 1991 San Antonio Livestock Show and Rodeo, Michael matched Monty Joe to 100 straight catches on the Slick-Stick but couldn't catch a dummy 3 out of 10 times.
Michael lived on the Slick-Stick, roping it 2 or 3 times a day for 1 to 3 hours at a time.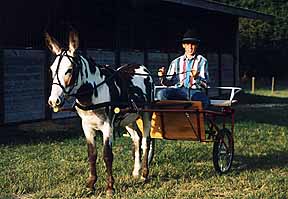 Together we developed new definitions about how to learn to rope. Michael learned to look at steers as steers and not as a dummy.
Roping steers in the arena was never a problem. A few days after his eleventh birthday, Michael and I won the average, his first buckle and our first buckles together at a 198 Team, 4 head, C-roping.
Our busy schedule, delivering Slick-Sticks, kept Michael from roping many live cattle. In fact, until the time I am about to share, he had roped less than 500 live steers. Our good friend, David Clark, from North Carolina, felt kind of bad that Michael wasn't getting to rope much. After driving 23 hours to get to David's, while making Slick-Stick deliveries, David had a surprise for Michael. David had 30 fresh Mexican steers wrapped and two horses saddled for Michael. When we got out of the truck, David said, "Mike, let's rope. Every steer is yours tonight, head or heel, take your pick." Michael started heading and roped 30 straight, slick around the horns. Then he decided to heel. He roped 29 straight by two feet, the 30th one stopped against the fence and he roped a leg.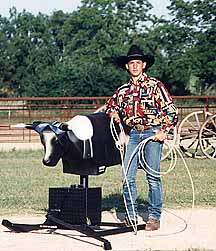 Michael started helping me teach roping schools about five years ago. The attitude quickly changed from what could that kid possibly teach me to me proudly watching 6 to 10 adults at a time, in a group around Michael, listening to his every word. Michael quickly became a very articulate and knowledgeable teacher well beyond his years.
The day after a school at Nick Fuller's in Alabama, a couple of years ago, we had a "fun day" for some of the local ropers and students from the school. Michael roped 150 straight steers by two feet on three heel horses for seven different headers. It's hard to tell how many more he could have roped, we ran out of stock.
Michael's won his share of buckles, ropes, money clips, saddles and lots of cash. He bought his three horse/dressing room ELITE Aluminum Trailer with the winnings from one roping.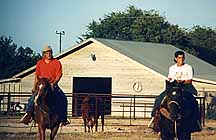 You can always spot Michael at a roping. He will be the one with the big smile. He loves to rope, but more important, he turned out to be a really fine young man.
In the last four years, in all the ropings where Michael has roped, he has been in the short go over 90% of the time, usually first fastest back and usually more than one place. I don't remember him ever missing a ropeable steer, in the short go.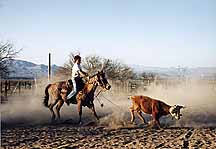 DOES THE ROPRO TRAINING SYSTEM WORK? ASK MICHAEL.
Now, Michael is 19 and it's time for the PRCA. He's worked hard toward this for a long time.
God's Speed, Michael.
We Love You.
Top of Page
Michael Jones
34088 FM 2481
Hico, Tx 76457
| | |
| --- | --- |
| Michael Jones = Team Roping | |
© Copyright 2002, Michael Jones and David Jones
All parts of this site may be printed for personal use. No part of this site may be copied in any form for commercial purposes without written permission from Michael Jones or David Jones.
Michael-Jones.com is hosted by USHorses.com